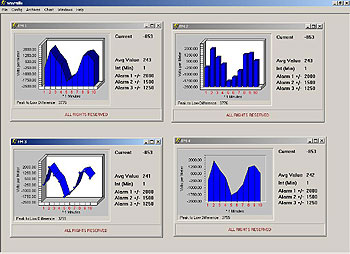 WinMills
by Eclectic Concepts
WinMills, WinMills LT, and WebMills software programs are designed by Eclectic Concepts in collaboration with Mission Instruments Co., and Nimbus Weather Technology, to support the varied needs of professionals who utilize electric Field Mills to monitor the potential level of electrostatic charge in the atmosphere in an effort to preempt any situation where lightning could directly impact on their operations.
The functional design of this interface software is designed to serve as a multifaceted tool to support analysis and alarming needs of individuals who employ Field Mill sensors in support of sensitive operations where particular attention must be given to the potential for lightning. WinMills is designed for applications where larger geographic coverage is involved and there is a need to simultaneously monitor the activity of up to ten Field Mills as well as individually manage alarming activity at each Field Mill location. WinMills Lt is intended for use at smaller locations where only one or two Field Mills are employed. WebMills, which is an upgrade available for WinMills users, permits authorized users of a customer's Internet/Intranet site to view the activity and alarm status of up to 10 individual field mills via their Internet Explorer® or Netscape® browsers.
The primary function of the software is to provide a graphic profile of atmospheric electrostatic conditions as registered/detected by one or more Field Mills. The software also provides the user with three (3) user-selectable/definable threshold and Volt Deviation Alarms (VDAs), as well as an E-mail notification feature for each alarm defined. A user-defined archive capability can also be assigned to each Field Mill.
WinMills is designed to run on platforms with Windows 95/98/NT/2000 and XP operating systems installed. The software also supports any Windows 95/NT compatible sound card and printer.
Data Sheet
---
Products
ALB101 - Monitor and Alarms for Electric Field Mills