ALB 101

The ALB 101 is a desk top alarm/display/control unit designed to interface with the EFS 1001 electric field mill sensor to simplify the process of monitoring electric field changes in the atmosphere. Providing the user with easy interpret visual aids, audible notification schemes, system status monitoring, and external output capabilities broadens application of the data and reliance on the system when used to establish the likelihood of lightning being present within a given area during a thunderstorm.
System Status


System operational status is easily determined by referencing indicator lights prominently displayed on the front panel. Four separate functions are monitored at all times. Two indicators confirm that power is being supplied to the Mill itself, a third indicator confirms that the motor within the mill is functioning properly, and the fourth is used to confirm that the alarm circuitry is powered, armed, and ready to notify the user should pre-defined threat levels be breached.
System Test


An independent field mill self test, and a manual alarm test are also built in to the EFS/ALB system to provide additional confidence, and to provide periodic system maintenance, calibration, and performance capability.
Current Observations


Current status of local electric fields are monitored and displayed on the front panel using a digital display indicating the actual volts per meter measured by the Mill. Intensity and polarity are also indicated using an easy to interpret lighted bar graph approach which can be viewed in a typical application from well over 20 feet from the device.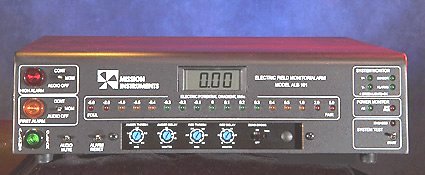 ALB 101
Alarm Settings


User defined thresholds can be established and monitored 24 hours/day 7 days/week automatically with values updated from the mill virtually every second. Should alarm thresholds be attained, ultra bright alarm indicators on the front panel are immediately activated, an internal audible alarm triggered, and input provided to pre-wired line voltage outputs and "dry contacts" which provide for connection to external systems that can be activated or de-activated as desired by the user. The combination of audible and visual notifications possible allow for a matrix of notification schemes to be pre-determined and setup to meet the unique demands of the user.
Battery Backup Option


Can be ordered with built-in automatic-recharging batteries, which keep field mill sensor and alarm system operational for up to 2 hours in the event of mains power failure.

As with all Mission Instruments products the use of high quality manufacturing and material practices are used to ensure long life and easy serviceability.
Products
EFS 1000 Series Electric Field Mill
WinMills - Display Software for Electric Field Mills